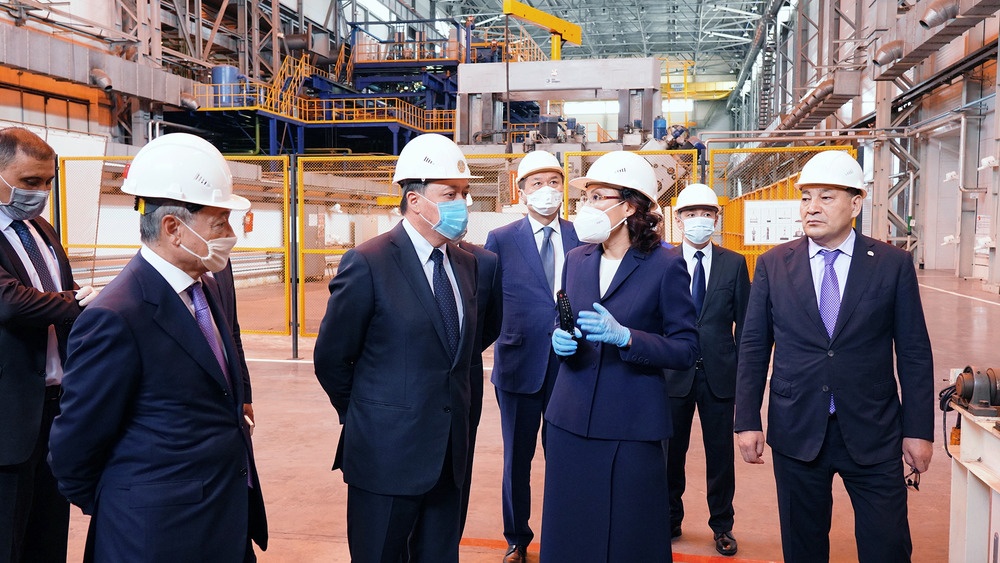 UKTMP JSC IN THE CENTER OF INDUSTRIAL DEVELOPMENT OF KAZAKHSTAN
The Prime Minister of the Republic of Kazakhstan Askar Mamin inspected the progress of spring field work and the socio-economic development of the East Kazakhstan region, visiting the NGO "Niva Altai", the construction of the Turgusun hydroelectric power station, the interdistrict hospital in Altai, EKSTU named after D. Serikbayev, etc.
Also, the Head of Government got acquainted with the implementation of major projects in a number of industrial enterprises of the region, including the Ust-Kamenogorsk Titanium and Magnesium Plant JSC.
Askar Mamin visited the production facilities of UKTMK, in particular, the Kazakh-Korean joint venture POSUK Titanium LLP, which was launched on December 25, 2014 as part of the National Teleconference with the participation of Elbasy. The Prime Minister saw the innovative technologies used in the process of manufacturing titanium slabs and ingots by the electron beam melting method. Assem Mamutova, President of UKTMP JSC, told the Head of the Cabinet of Government in detail about the achievements of the Plant over the years of Kazakhstan's independence and plans for the future.
AssemMamutova, President of UKTMP JSC
– In 2019, the Plant achieved the highest results in terms of production and sales. Of course, this was due to the great work that the company and our entire group of companies have been doing over the past 20 years. And in addition to creating new subsidiaries, increasing the market capitalization of companies, we were able to achieve all this thanks to our team. The team was not only retained, but today our team is one of the most technologically advanced and developed. Individually, I would like to say about the subsidiary joint venture POSUK Titanium LLP, which is engaged in the production of titanium ingots and slabs for further processing into titanium sheets and forgings used in shipbuilding and power engineering. 100% of POSUK Titanium products are exported abroad, namely to South Korea and China. And all these thanks to the close-knit work of seasoned professionals - titanium metallurgists.
Prime Minister Askar Mamin noted that the East Kazakhstan region is a republican leader in the innovative development of the country. For three months of 2020, the metallurgists of East Kazakhstan produced products for 241 billion KZT. And this is a huge contribution of the personnel of UKTMP JSC. He wished the Plant further development and successful implementation of the plans for the benefit of the enterprise and the whole Kazakhstan.