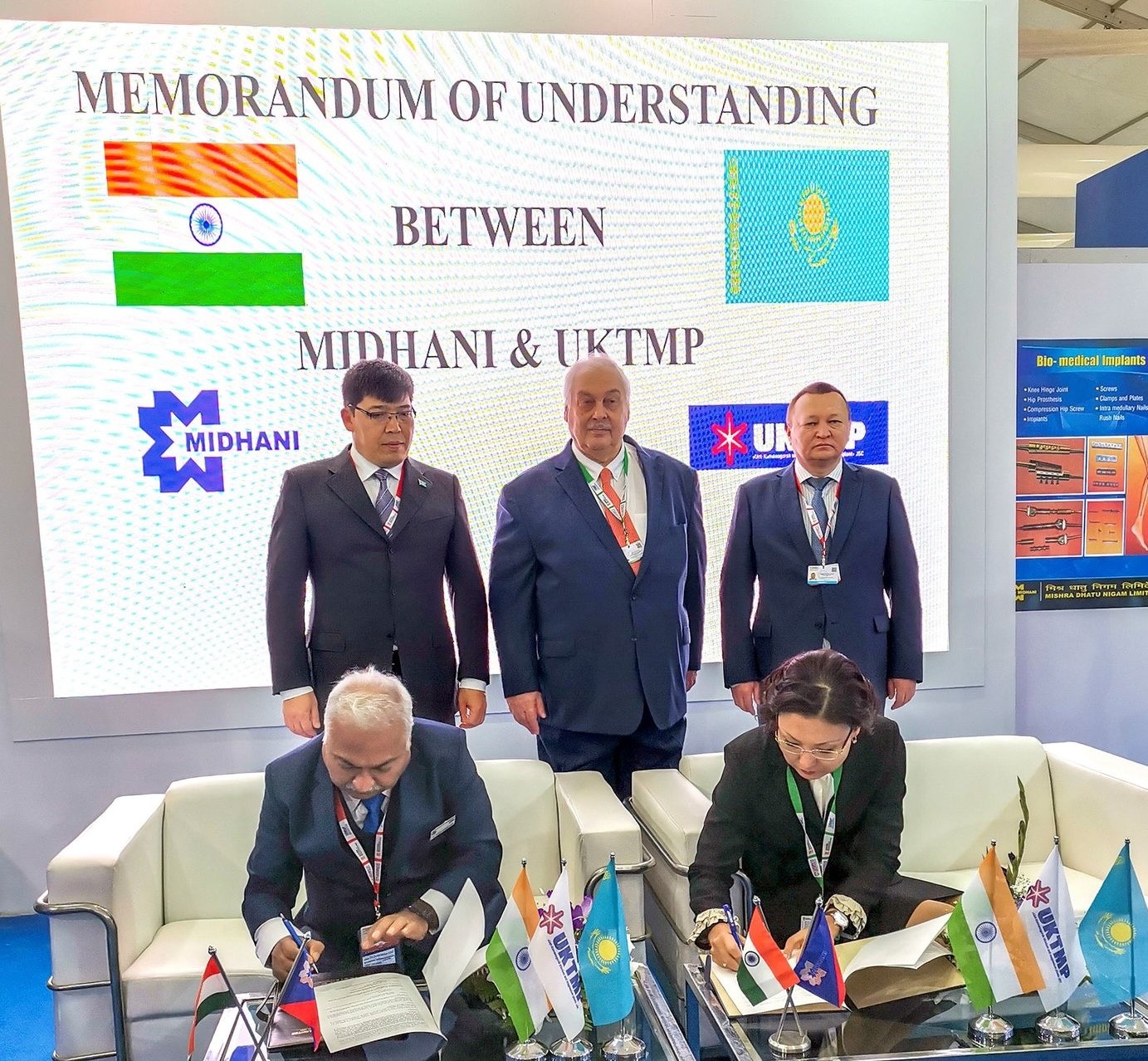 A MEMORANDUM of UNDERSTANDING SIGNED BETWEEN UKTMP JSC AND MIDHANI (INDIA)
The international exhibition Defexpo is held every two years under the auspices of the Ministry of Defense of India and the Confederation of Indian Industry and is currently the largest Asian platform for weapons and military equipment.
The exhibition is attended by the USA, Russia, France, Germany, Italy, Israel, Iran, and other technologically developed countries of the world, represented by such companies as Boeing, Safran, SAAB AB, Airbus, Mishra Dhatu Nigam Limited (MIDHANI), Rosoboronexport. Their products are widely used not only in the defense industry, but also in medicine, energy, aviation, space, chemical and other industries.
According to Assem Mamutova, President of UKTMP JSC, participation in DefExpo India 2020 is an opportunity for the Plant to consolidate the basis of strategic partnership with Indian enterprises in the production and supply of titanium products for aerospace and medical purposes, as well as in the production of titanium-containing raw materials.
At the exhibition between UKTMP JSC represented by the President of the company Assem Mamutova and the state enterprise of the Ministry of Defense of India company MIDHANI represented by the Chairman of the Board Dr. Dinesh Kumar Likhi signed a Memorandum of Understanding, within the framework of which partnership relations will be continued in production of titanium bioimplants and medical instruments.
On the part of the Republic of Kazakhstan, the Memorandum signing ceremony was attended by: Vice Minister of Industry and Infrastructure Development of the Republic of Kazakhstan Talgat Zhenisovich Zhanzhumenov and Ambassador Extraordinary and Plenipotentiary of the Republic of Kazakhstan to the Republic of India Erlan Altynbaevich Alimbaev.
On the part of the Government of the Republic of India, there were: Minister of Defense of India Raksha Mantri Shri Rajnat Singh, Chief Minister of Uttar-Pradesh State Yogi Adityanath and other members of the Government of India.
Also, MIDHANI was represented by: Dr. Sanjay Kumar Jha, Director of Production and Marketing, D. Gopikrishna, Head of Commercial Service
UKTMP JSC has been cooperating with MIDHANI since 2010. At present, UKTMP JSC exports titanium sponge and Eli titanium alloys to MIDHANI, intended for the production of products used in medicine.
MIDHANI produces titanium alloys and special steels used in nuclear power, aerospace, chemical and petrochemical industries. In addition, MIDHANI manufactures a wide range of world-class titanium bioimplants and prostheses that comply with the international specifications of ASTM, BSI, ISO and BIS and are licensed by the Medicines Regulatory Authority of India.